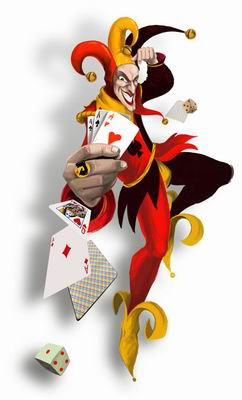 Joker Poker
It is believed that the term joker comes from the mispronunciation of the term Jucker, the German name for the game Euchre. The card was originally introduced around the late 1800s and it was used in games where Trump cards were played, with the joker representing the highest possible Trump.
The Joker is used extensively in video poker games and Joker Poker even uses it in its title. The game screen looks exactly like the screen you would find in a brick and mortar casino.
There is an INSERT BILLS sign on the right hand side of the machine with an arrow pointing to a coin slot. The bet sizes are shown on the INSERT BILLS sign and range between 0.10 and 5.00 credits.
The Joker Poker logo is also biased towards the right of the screen with the pay table on the left and five-card deck plumb bottom centre.
When you bet you have two choices, you can choose the BET ONE button and toggle between one and five credits or just press the MAX BET button, which will automatically select five credits for you.
The Joker is the games wild card and substitutes for any other card in order to create winning combinations. Once you have made a winning hand the game will give you the option to Double Up. The dealer will give you an up card and you need to select a card that is higher in order to double up.
Joker Poker is a great video poker game but you do need to hit a pair of Kings or better in order to win.
Play Joker Poker:
To play Joker Poker, you need to visit one of the following popular online casinos below
· All Slots
$200 first deposit bonus + further bonuses available - visit casino here...