Watch out for Cyber Criminals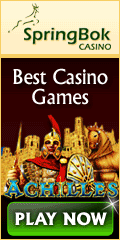 The fact that online gambling has become such a massive industry with trillions of rands to be won, and of course lost, each year, makes this business without a doubt attractive to skilful, cunning cyber criminals. Many are based on the other side of the globe and are completely out of legal reach, which makes prosecution virtually impossible in many cases.
With the internet's mushrooming popularity over the past two decades, online gambling's popularity has grown proportionately – but so have the security threats. That is why it is vitally important deal only with reputable casinos. Casinos such as Springbok Online Casino, have spent millions on state-of-the-art security systems and find themselves counteracting new threats on a regular basis.
The best security guard will, however, always be the one who's sitting behind the computer – you.
Educating yourself about the most common forms of malicious software, adware and spyware, will certainly act in your favour. Adware programmes are designed to display advertisements on your computer screen. Spyware appears to do the same but its purpose is to spy on your computing patterns and transmit the data it comes across to a remote source. The risk one takes when dealing with an online casino is of downloading something that appears to be a gaming platform but is in essence a dangerous programme with the intent to defraud you and/or harm your computer.
Phishing has also become one of the most common threats to internet users, and probably one of the most detrimental too. The definition of phishing, according to SearchSecurity, is "an e-mail fraud method in which the perpetrator sends out a legitimate-looking email in an attempt to gather personal and financial information from recipients. Typically, the messages appear to come from well-known and trustworthy websites."
Whilst recognizing these threats can be tricky and somewhat arduous, there are ways you can protect yourself. First and foremost, purchase and install a recognised anti-virus software programme on your computer. Secondly, make sure you deal only with reputable online casinos and other organisations where money is transferred from one party to another, and thirdly, don't become complacent. You can be your best caretaker or your worst enemy. The choice is yours.